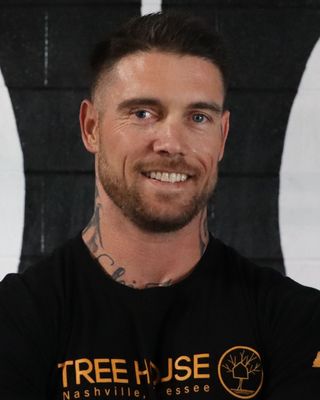 Tree House Recovery TN
Treatment Center
Verified by Psychology Today
930 Rep. John Lewis Way S,
Nashville, TN 37203
Truly Holistic: Mind, Body and Social Health
Tree House is revolutionizing addiction treatment for men and women by promoting empowerment, education, and self-mastery. Our comprehensive approach prioritizes optimizing the body and mind, leading to sustainable sobriety and a renewed enthusiasm for life among our clients. We firmly believe that individuals who are prone to addiction must cultivate emotional resilience, physical fitness, and social connectedness in order to maintain lasting sobriety.
Optimizing the Body:
We utilize physical fitness rather than medication to achieve a balanced chemistry in the brain and body. Our fitness program empowers clients to think clearly, manage drug cravings, and harness action and exercise to regulate their thoughts and emotions, without relying on illegal or prescription drugs. Our team-based social therapies leverage cutting-edge techniques to promote positive neuroplasticity, repairing the drug-damaged prefrontal cortex and fostering positive neurogenesis.
Optimizing the Mind:
Our clients receive a comprehensive education on addiction, learning about its causes and how to maintain wellness. Our one-on-one therapy delves deeply into the root causes of addiction in a supportive, confidential environment. Our educational process groups teach clients about the physiological and biological effects of addiction on their thoughts and behaviors. Our structured therapy assignments provide clients with a platform to identify, process, and resolve traumatic events from their past.
Qualifications
Verified by

Psychology Today

License: Tennessee / I000000032282
Primary Location
930 Rep. John Lewis Way S
Nashville, TN 37203
Call Brandon Fender
(615) 576-2964
Email us
Last Modified:
 13 Mar 2023