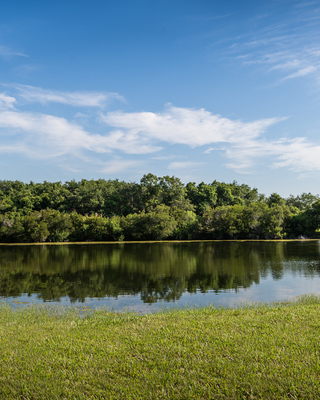 Recovery Keys
Treatment Center, JCAHO, MD, ABPM, ADM, FASAM
The mission of Recovery Keys is to provide effective outpatient drug and
alcohol rehab
for individuals struggling with substance use disorders. Recovery Keys recognizes the disease model of addiction and treats substance use disorder as an illness, not a moral failing. Our team of professionals can assist you in unlocking a life of health and balance. We offer a Day Treatment/Partial Hospitalization (PHP) Program and an Intensive Outpatient Treatment Program (IOP) specially designed to treat addictive disease and substance abuse. We also offer Aftercare and Post-Treatment Monitoring for those who successfully complete treatment. Recovery Keys accepts most private insurance plans for our outpatient treatment programs. Financing options are also available to qualified applicants. Please contact our office to discuss these options, if you have additional questions, or to schedule an appointment for a professional evaluation. http://www.recoverykeys.org/
(904) 329-7914
Saint Augustine,
FL
32080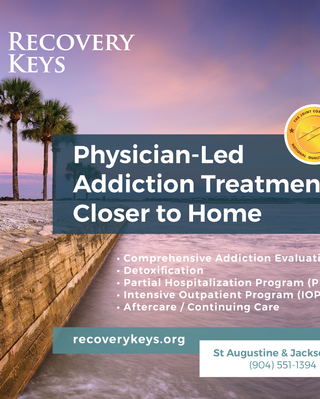 Recovery Keys
Treatment Center, JCAHO, MD, ABPM, ADM, FASAM
Verified
The mission of Recovery Keys is to provide effective outpatient drug and
alcohol rehab
for individuals struggling with substance use disorders. Recovery Keys recognizes the disease model of addiction and treats substance use disorder as an illness, not a moral failing. Our team of professionals can assist you in unlocking a life of health and balance. We offer a Day Treatment/Partial Hospitalization (PHP) Program and an Intensive Outpatient Treatment Program (IOP) specially designed to treat addictive disease and substance abuse. We also offer Aftercare and Post-Treatment Monitoring for those who successfully complete treatment. Recovery Keys accepts most private insurance plans for our outpatient treatment programs. Financing options are also available to qualified applicants. Please contact our office to discuss these options, if you have additional questions, or to schedule an appointment for a professional evaluation. http://www.recoverykeys.org/
(904) 342-5965
Saint Augustine,
FL
32080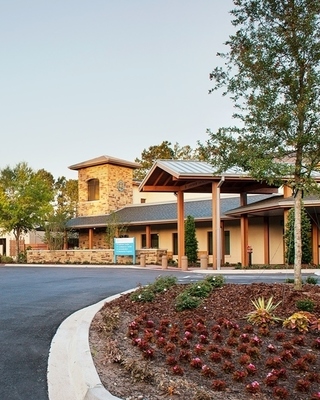 Lakeview Health
Treatment Center
Verified
Lakeview Health is a private drug and
alcohol rehab
center in Jacksonville, Florida, founded in 2001. We treat the whole patient-body, mind and spirit-using a multidisciplinary medical model that combines physiological, psychological and psychosocial care. Our treatment is highly personalized to meet each patient's unique needs and circumstances. Our newly renovated campus provides a safe, supportive environment for patients to recover, reclaim their health and refocus on what's most important in their lives-to find their "true north." The signature program at Lakeview Health includes: - A therapeutic continuum of care treatment model - Dual diagnosis treatment - Three-day family programs - Alumni program
(561) 221-6816
We serve:
Saint Augustine,
FL
32084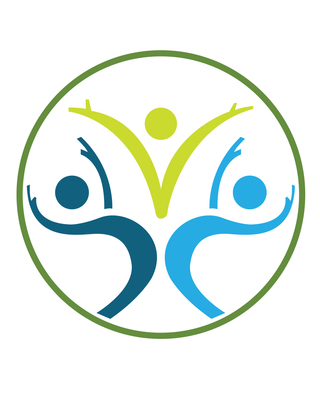 St John's Recovery Place
Treatment Center
Verified
Substance abuse is a serious medical problem. The use of drugs or alcohol can impact the way that the brain works as neurotransmitters and neurons adjust processing patterns in response to the introduction of addictive chemicals to the system. Addiction to drugs or alcohol is a recognized medical condition that can be treated, but just as you wouldn't expect to heal from diabetes or asthma without medical treatment, you should not expect to beat addiction on your own. SJRP provides treatment for addiction to ensure your best chance for recovery during your stay at our drug and
alcohol rehab
. Florida is a beautiful place to embark on your recovery journey. We believe recovery is a very personal process that is quite different for everyone that comes through our doors. At St. John's Recovery Place, a Florida addiction and recovery center, we realize the importance of providing clients with a custom-designed treatment program that focuses on their unique recovery goals & individual needs. Our low client to counselor ratio and expert, scientific-based treatment modalities will lead the way to your recovery from addiction.
(386) 200-1497
We serve:
Saint Augustine,
FL
32080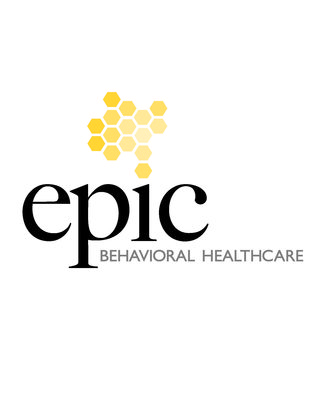 EPIC Behavioral Healthcare
Treatment Center
Verified
Life can be complicated. Whether it is you or someone you care about dealing with drug and/or alcohol addiction, anxiety, depression, relationship/marital issues, behavioral issues with kids, other mental health disorders, co-occurring disorders, grief, anger issues, parenting challenges, or other issues, EPIC can help.
(904) 447-1926
Saint Augustine,
FL
32084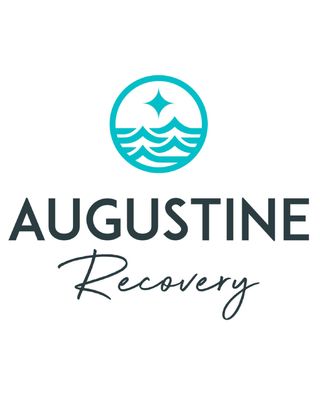 Augustine Recovery
Treatment Center, CAP, ICADC, CTP
Verified
Our mission is to provide a safe and supportive environment to create lasting change for men and women via gender specific treatment who are struggling with addiction or substance abuse by incorporating realistic spiritual living practices that can be carried on successfully for a lifetime of sobriety. Our treatment graduates will experience new daily living, full of renewed self-esteem, acceptance, reduced stress, less anxiety, and wonderful healing of trauma. Our individualized treatment plans use approaches proven to help clients learn to experience their emotions and develop the tools to recover from drug dependency. Following residential treatment at Augustine Recovery, clients have the option to live in our transitional sober living housing and participate in our community-based intensive outpatient treatment program.
(904) 512-0914
Saint Augustine,
FL
32086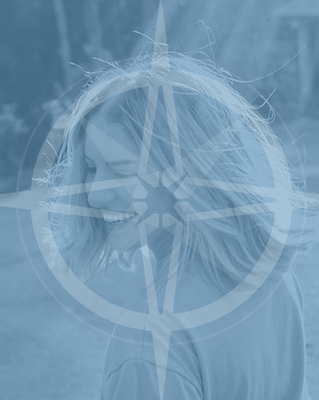 Lakeview Health
Treatment Center
Verified
Lakeview Health is an addiction treatment facility located in Jacksonville, Florida. We are proud to be licensed by the State of Florida Department of Children and Families and hold dual accreditation with the Joint Commission. Our Jacksonville campus is over 10 acres and includes a men's only program, women's only program, and a state of the art wellness center.
(866) 590-8160
We serve:
Saint Augustine,
FL
32084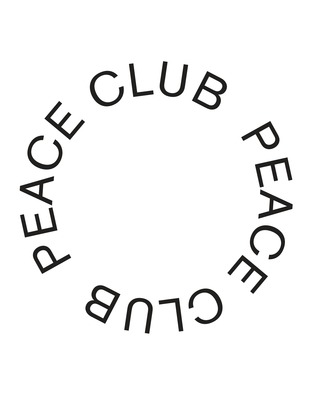 Peace Club
Treatment Center, LMHC
Verified
We help individuals and communities recover from the effects of opioid addiction. Peace Club was started out of necessity. Too many of our friends and neighbors have died from opioid-related deaths or find themselves stuck in a cycle of dependency. Our goal is to take the best from the addiction industry and add the pieces we believe are missing: quality over convenience, innovation over conventions, and people over profits.
(321) 732-8952
We serve:
Saint Augustine,
FL
32080
& Online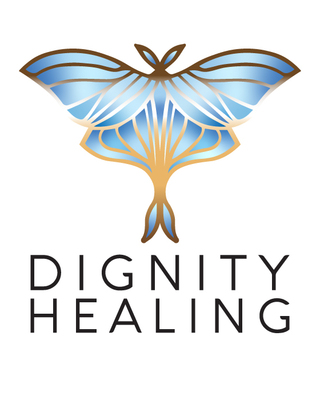 Zinnia Lake Okeechobee
Treatment Center
Verified
At Zinnia Lake Okeechobee, our team of caring addiction professionals believes recovery is possible for everyone. Every facet of the program — education, counseling, behavior management, peer support, and other therapeutic activities reflects this core value. Our mission is to provide intensive, comprehensive treatment services to individuals with substance and alcohol use disorders and related co-occurring illnesses. Our detoxification and residential addiction treatment programs offer the highest quality treatment from a multi-disciplinary team in a luxurious setting designed for inner focus to enhance the treatment experience. Zinnia Lake Okeechobee uses evidence-based practices to address the signs, symptoms, and behaviors of substance use disorders. The drug and alcohol recovery program adopts a holistic view of individuals. It incorporates techniques that address the substance use disorder and the affected physical, emotional, social, vocational, and spiritual areas of impact.
(561) 559-4276
We serve:
Saint Augustine,
FL
32080
Florida Counseling and Evaluation Services
Florida Counseling and Evaluation Services is a group of competent and caring mental health providers whose goal is to assist individuals in resolving personal difficulties and in acquiring those skills, attitudes, and resources necessary to pursue productive and satisfying lives. We offer individual, couples/family, group, and intensive outpatient (IOP) treatment options for substance abuse (SA) and mental health (MH). We offer the only non-hospital based intensive mental health intensive outpatient program in the greater Jacksonville area.
(904) 329-7518
We serve:
Saint Augustine,
FL
32092
& Online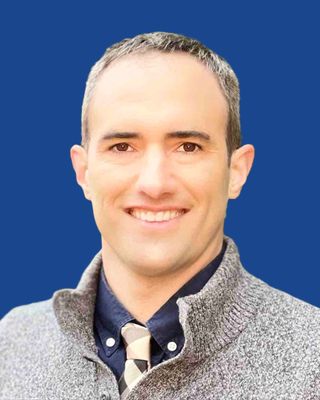 TelepsychHealth IOP and PHP
Treatment Center, MD, LCPC, CADC
Verified
1 Endorsed
TelepsychHealth was co-created by two former Hazelden Betty Ford directors: Bruce Bassi (medical director) and Michael Mahoney (site director) formerly for the Chicago, IL office. As such, we are evidence based and growth-oriented, constantly wanting to offer the latest in recovery care! We have 4.9 star average of over 300+ reviews (on our website). We offer a comprehensive range of programming for intensive outpatient (3 hrs per day) and partial hospitalization (5 hrs per day).
(904) 560-8437
We serve:
Saint Augustine,
FL
32084
& Online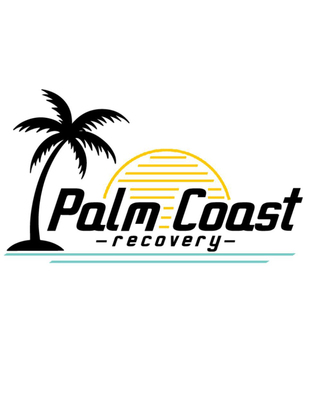 Palm Coast Recovery Center
Palm Coast Recovery Center is a client focused treatment program that utilizes the most progressive, evidence-based approach to substance abuse. If you or a loved one is struggling, our team of highly trained professionals is here to help. We offer an integrated Abstinence based and Medication Assisted Treatment program, along with group and individual sessions as needed. Our team builds an individualized treatment plan according to the client's needs.
(386) 242-4179
We serve:
Saint Augustine,
FL
32080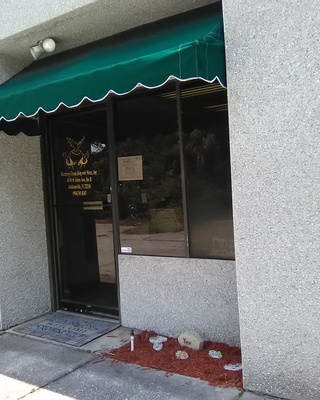 Recovery Counseling and More, Inc
Treatment Center
Verified
1 Endorsed
We provide court and probation Drug and Alcohol evaluations, Mental Health evaluations, DOT SAP evaluations as well as Alcohol and Drug classes to meet DUI/DWI, Probation and outside agency SAP recommended.
(904) 682-9614
We serve:
Saint Augustine,
FL
32084
& Online
---
See more therapy options for Saint Augustine
---
Alcohol Rehab Treatment Centers
Alcohol rehab centers in Saint Augustine provide rehab and recovery treatment for those who struggle with alcohol use. Many of the alcohol rehab centers offer differing approaches to the recovery process. Some offer spiritual approaches to recovery, while others focus on the medical aspect of dealing with an addiction.

Choosing the best alcohol addiction treatment program in Saint Augustine means narrowing down the choices to those that fit your particular recovery needs. Make certain that the facility chosen offers a recovery program that has a successful history of treating your specific addiction. Keep in mind that the best facility is the one you feel most comfortable for helping you with your alcohol rehab in Saint Augustine.

When choosing the best alcohol rehab center, it's also important to determine if you want inpatient alcohol rehab in Saint Augustine or outpatient alcohol rehab in Saint Augustine. Most programs begin at about 28 days to give patients enough time to get through the detox process followed by counseling. This timeframe may be insufficient to completely battle the addiction, so a facility that has extendable programs is generally preferred because it allows addicts to work at their own pace toward recovery.


---
Rehab in Saint Augustine

Clients who are looking for Drug Rehab in Saint Augustine or Alcohol Rehab in Saint Augustine can find help at a treatment center. The first step towards recovery usually requires clients to detox in Saint Augustine under medical supervision, and follow-up with a period of intensive therapy at the center.

INPATIENT or OUTPATIENT?

Residential inpatient treatment in Saint Augustine consists of 24-hour care at a live-in facility. Full treatment services, including medical and behavioral therapy, are provided all at one location.

Outpatient treatment programs in Saint Augustine provide flexibility to those who are unable to take time away from their regular lives, work or school. Programs typically meet at the clinic a couple of times every week for a few hours at a time.

Certain programs provide a combination of the in/out approach: Inpatient for medical stabilization, partial hospitalization for moderate cases, intensive outpatient programs, and outpatient clinics for follow-up. For instance, opiate abusers may find it helpful to begin their abstinence with a brief but intensive outpatient opiate drug detox in Saint Augustine.