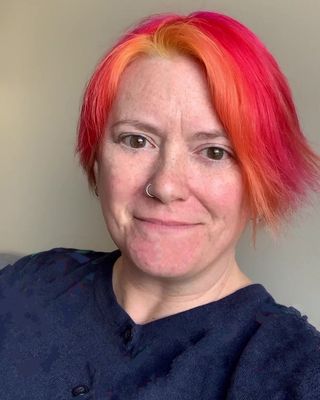 Sarah E Hazelton
Clinical Social Work/Therapist, LICSW
Verified
1 Endorsed
In addition being a general therapist, my primary specialty is treating OCD, Anxiety, Body Focused Repetitive Behaviors, and associated disorders for adolescent, college aged, and adult clients. My practice uses Exposure Response Prevention (ERP) in conjunction with other cognitive behavior interventions, Acceptance and Commitment Therapy, and Habit Reversal Training. I enjoy clients who are considering taking on the challenge of treating their OCD or Anxiety and are ready to see results.
(207) 900-2077
Whitefield,
ME
04353
& Online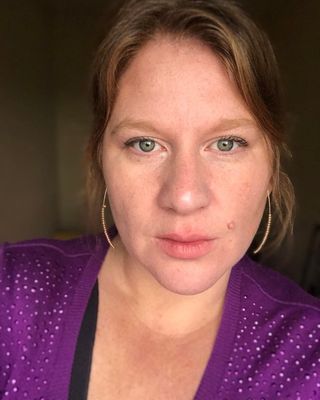 Elizabeth Doyle @ Compass Counseling
There are many things that keep us from being true to ourselves and/or brings conflict into our lives making it easy to feel lost or off-track. My work involves allowing you to find your compass by resolving traumas from the past and finding simple and workable solutions for the present. It is my priority to help people come back to their strengths and rediscover their inner compass. My job is to create an environment for you that is free of judgement and debris; together we can find your bearings and put the wind back in your sails.
(207) 204-8332
Whitefield,
ME
04353
& Online
Online Therapists

Barbara Meichner Doughty
Counselor, MS, LCPC
Verified
Equine Assisted Pyschotherapy benefits clients addressing trauma,
depression
, anxiety, and any life transition.
My work as a therapist has foundation in a strong and trusting client/counselor relationship grounded in compassion and non-judgment. Clients focus on work that encourages self-awareness through blends of strength based, traditional and holistic strategies including mindfulness. You will gain insight into feelings, learn to understand behavior and reduce emotional suffering and dissatisfaction so that your changes are positive and lasting. Post Covid my therapy golden retriever will again participate, helping soothe the client into the present moment, reduce stress,promote healing.
(207) 517-4973
Brunswick,
ME
04011
& Online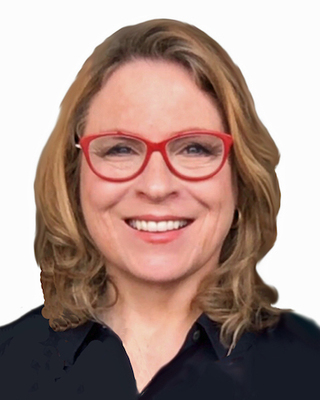 Tanya Shan
Psychologist, PhD
Verified
1 Endorsed
I provide treatment for individuals struggling with
depression
, anxiety, mood disorders, adjustment and transition issues, relationship concerns, substance abuse disorders and post-traumatic stress.
Whatever brings someone to therapy, it generally includes some form of pain, dissatisfaction, or discomfort, and a disconnect between what is happening their life and what they want. Our work together will help to shed light on why you are struggling, and support you as you make changes, drawing on your strengths to find an approach that is more effective and aligned with how you want your life to be. I believe that effective therapy starts with a safe, compassionate, non-judgmental emotional space where clients can feel heard and understood and my work is grounded in developing a strong therapeutic relationship.
(207) 204-3879
Brunswick,
ME
04011
& Online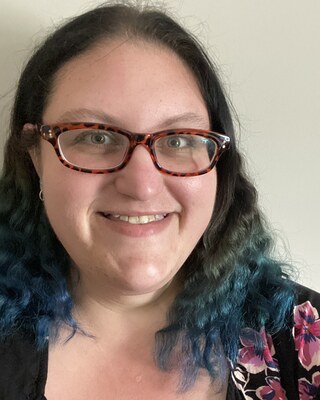 Danielle Duckworth
Counselor, LCPC-C, LADC, MHRT-C
Verified
I am trained for work with individuals struggling with mental health issues, as well as substance abuse issues. Other areas I am able to assist with are
depression
, anxiety, shame, self esteem, grief, loss and trauma, gender and sexuality, and developmental and life transitions. During the assessment we would discuss the least restrictive diagnosis possible and begin to set goals together. This is a journey that we will embark on together.
(207) 324-4054
Sanford,
ME
04073
& Online
---
See more therapy options for Whitefield
---
Depression Therapists
Depressive disorders are characterized by persistent feelings of sadness and worthlessness and a lack of desire to engage in formerly pleasurable activities.
Depression
is not a passing blue mood, which almost everyone experiences from time to time, but a complex mind/body illness that interferes with everyday functioning. It not only darkens one's outlook, it is commonly marked by sleep problems and changes in energy levels and appetite. It alters the structure and function of nerve cells so that it disrupts the way the brain processes information and interprets experience.
Despite feelings of hopelessness and worthlessness, depression is a treatable condition. It can be treated with psychotherapy. As with many illnesses, the earlier treatment begins, the more effective it can be and the greater the likelihood that recurrence can be prevented.
Psychotherapy addresses the thinking patterns that precipitate depression, and studies show that it prevents recurrence. Drug therapy is often helpful in relieving symptoms, such as severe anxiety, so that people can engage in meaningful psychotherapy.