Beverly J Matthews
Licensed Professional Counselor, MS, LPC, NCC, CPCS
Verified
5 Endorsed
I specialize in traditional
cognitive
/behavioral therapy, as well as experiential therapy, which include Somatic Experiencing, EFT (Emotional Freedom Techniques or Tapping), Energy Psychology, Holographic Memory Resolution, Hypnotherapy, Breathwork and meditation/visualization.
For 25 years I've been helping men and women experience more clarity, feel empowered, and overcome their feelings of depression and anxiety. Whether you are struggling with past trauma, relationship issues, problems with work, or feel stuck in any area, I will support you in creating the kind of life you want. Together we will explore the negative beliefs, emotions and behaviors that have held you back and clear the emotional charge associated with them, so that you can begin to accept and love yourself and make healthy and life-enhancing choices moving forward.
(678) 383-0375
Hosts group in:
McCaysville,
GA
30555
& Online
Ashley Blomeley
Marriage & Family Therapist, MBA, LMFT
Verified
In a world full of people, you may be feeling alone, misunderstood, or not truly seen by those around you. This can happen when we are disconnected with those we love or when we are going through difficult things. We weren't meant to traverse this world alone, and developing meaningful relationships with those around us is important to our overall health and wellbeing. If you struggle in relationship with yourself or others and would like to learn how to improve overall self-esteem, healthy boundaries, relationships with family and friends, then you are at the right place.
(762) 240-4954
McCaysville,
GA
30555
& Online
Online Therapists
Waitlist for new clients
Therapy for Caregivers, LLC
Clinical Social Work/Therapist, LCSW
Verified
1 Endorsed
We use a combination of
Cognitive
Behavioral Therapy (
CBT
), Strength-Based Therapy, Motivational Interviewing, Mindfulness, and Solution-Focused Therapy with a Humanistic Foundation.
Therapy for Caregivers acknowledges and understands the everyday challenges of being a caregiver whether it be a familial caregiver or professional caregiver. That's why we believe in providing education around what caregiving is and why it looks different for every caregiver. Here are some real life caregiving situations I've seen first hand. A married couple with teenage children now finding themselves as the primary caregivers for their parents. A spouse caring for their partner with a new onset of dementia or end stage disease. A nurse, physician, or social worker who is experiencing compassion fatigue - extreme tiredness.
(678) 785-4565
Atlanta,
GA
30339
& Online
Waitlist for new clients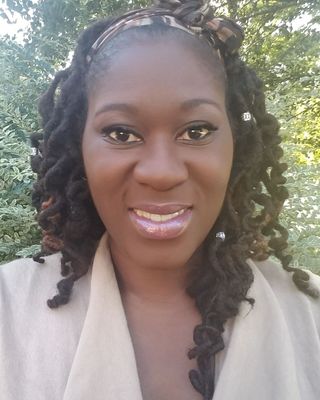 Desirea R. Russell
Licensed Professional Counselor, MS, LPC, NCC
Verified
1 Endorsed
I apply
cognitive
behavioral approach and solution-focused brief therapy.
There are times where we all need a little help through navigating this journey called life. I want to thank you for choosing me to help you do just that. My name is Desirea Russell, a Licensed Professional Counselor and Certified Rehabilitation Counselor. My passion is helping others by providing quality psychotherapy for those seeking help.
(404) 737-6277
Atlanta,
GA
30310
& Online
Sharilee Benjamin
Clinical Social Work/Therapist, LMSW, CTP
Verified
I use a combination of evidence-based and trauma-focused therapeutic approaches that incorporate elements of solution-focused,
cognitive
behavioral (
CBT
), dialectical behavior (DBT), and ART therapies, motivational interviewing, and mind-body practices.
I am a psychotherapist, Licensed Master Social Worker (LMSW), and certified trauma professional, currently pursuing full licensure. I am passionate about helping individuals and families restore or cultivate emotional, physical, and social well-being and tranquility. So whether you're struggling with anxiety, low self-esteem, feeling overwhelmed or unmotivated, or having interpersonal relationship issues, I am here to help you.
(678) 716-7386
Atlanta,
GA
30328
& Online
---
See more therapy options for McCaysville
---
Cognitive Behavioral (CBT) Therapists
How does cognitive behavioral therapy work?
Cognitive behavioral therapy
works by exploring how your thoughts affect your emotions and experiences. CBT helps you identify distortions in your thinking. For example, you may tend to jump to the worst case scenario (catastrophizing) or think in extremes (all-or-nothing thinking). A therapist can teach you how to push back against those thoughts to ultimately change your feelings and behavior for the better. They can also provide coping skills to better deal with stressors and challenges.
When do I know to seek treatment with cognitive behavioral therapy?
It's reasonable to consider cognitive behavioral therapy if you struggle to manage difficult emotions or behaviors to such an extent that you are not getting the most out of life on a day-to-day basis. If you want a shorter term, concrete, skills-based approach, CBT is a great option. (By contrast, other types of therapy may devote more time to exploring your past and its effects.) The decision to seek CBT also depends on the condition you're treating; CBT is an effective treatment for anxiety, depression, trauma, and many other disorders.
How can I find a cognitive behavioral therapist for someone else?
To find a cognitive behavioral therapist for someone else, you may want to begin by discussing the person's problem, researching cognitive behavioral therapy, and assessing whether the approach is the right fit. You could then reach out to a few cognitive behavioral therapists in this directory, explain the scenario, have a consultation with those available, and determine who could be a good match.
Why is CBT such a popular form of therapy?
CBT has become a popular form of therapy because it is effective and accessible. Robust research has demonstrated that CBT is an effective treatment for many mental health conditions. And CBT can be learned in relatively few sessions, which means that many people can engage in the process, afford it, and see results quickly. It involves learning concrete skills such as disputing unhelpful thoughts; these skills can also be taught and spread widely.