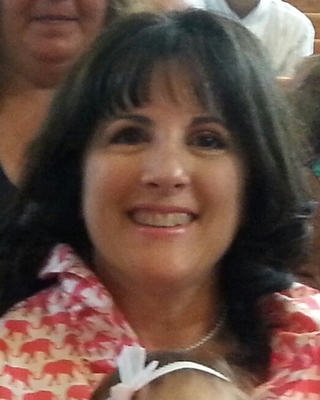 Holistic Services, LLC
Psychiatric Nurse, APRN, MSN
Verified
Hello! I am a nurse practitioner who has been helping those with mental health issues for many years. I do medication management. I also do tele-health visits.I am a kind and compassionate practitioner that focuses on the whole person and their needs.
(860) 483-3163
Watertown,
CT
06795
& Online
Maegan Monterose
Psychiatric Nurse Practitioner, MSN, APRN, PMHNP
Verified
Maegan is an ANCC board-certified Psychiatric Mental Health APRN, with over 10 years of experience in the mental health field, treating patients across the lifespan. It is Maegan's goal to help you achieve greater mental stability through medication management, holistic healing approaches and interdisciplinary collaboration. Maegan is a firm believer that patient education is pivotal in treatment plan success, and she strives to ensure that you understand exactly what to expect in treatment, the meaning of possible signs and symptoms and that you have the opportunity to be an active participant in your treatment decisions.
(860) 891-3231
Watertown,
CT
06795
& Online
More Psychiatrists Nearby
---
See more therapy options for Watertown
---
ADHD Psychiatrists
When should I seek treatment for ADHD?
You should seek
treatment for ADHD
if you consistently have difficulty with attention, hyperactivity, or impulsivity that interferes with your daily life. Symptoms of ADHD include the inability to sustain attention during tasks, difficulty organizing tasks and activities, being easily distracted, frequent fidgeting or squirming, and talking or interrupting excessively. If these symptoms interfere with your career, academics, or relationships—for example, consistently failing to complete professional projects on time—you should seek an evaluation for ADHD.
How does treatment for ADHD work?
Effective treatment for ADHD often consists of medication, behavioral therapy, and lifestyle changes. Stimulant medications such as Adderall and Ritalin work by altering levels of neurotransmitters in the brain; higher levels of dopamine and norepinephrine are known to improve attention and focus. Therapy works by helping people with ADHD understand the condition, discuss their areas of difficulty, and develop behavioral strategies to manage their symptoms. In some cases, modifying one's diet and exercise can also help improve symptoms.
Are there specific medications for ADHD?
Medications to treat ADHD are generally stimulants, the most common are Adderall and Ritalin. There are two categories of stimulants: Amphetamines include Adderall, Dyanavel, Vyvanse, and Dexedrine, and methylphenidates include Ritalin, Concerta, Daytrana, Focalin, Quillichew, Quillivant, and Metadate. Non-stimulants and antidepressants may be used as an alternative if stimulants aren't effective or viable for a particular patient.
How long does treatment for ADHD take?
It's tough to give an exact time frame because everyone varies. In terms of medications, stimulants begin to work very soon after you take them, generally within the hour. It may take time to identify the right medication and dosage, but the medication itself is fast-acting. In terms of therapy, it takes time to develop skills and put them into practice, but you will likely see improvements within a few weeks or months.
---
About Psychiatrists, meds and Psychiatric Nurses.
A
Psychiatrist
in Watertown is a qualified medical doctor who specializes in treating mental health issues and diagnosable disorders.
Watertown Psychiatrists differ from other mental health professionals in that they may prescribe medication as well as practice psychotherapy in treatment. Sometimes, Psychiatrists form part of a clinical team in which they will diagnose and prescribe, while psychologists or therapists provide the client's psychotherapy.
As part of a clinical assessment, Psychiatrists may conduct physical examinations, take blood tests, and order and interpret lab tests and brain image scans, such as CT scans, CAT Scans, and MRIs.
The field of psychiatry in Watertown has many sub-specialties, including pediatric psychiatry. Those who work with the elderly are called geriatric psychiatrists.
Other related sub-specialties include cognition psychiatry, addiction psychiatry, psychosomatic, forensic, reproductive medicine specialties, psychopharmacology , psychiatric genetics, neuroimaging, and clinical neurophysiology.
Psychiatric nurse practitioners in Watertown, or mental health nurse practitioners, generally have an MS degree in nursing (MSN) and a number of years of training to become certified. Psychiatric nurse practitioners are able to assess and diagnose mental health conditions and prescribe medication. Watertown Psychiatric nurse practitioners also have training that enables them to include psychotherapy with treatment.