Counselling in KW14
View cities in KW14
Fran Davies
Psychotherapist, MBACP
Verified
I am a psycho-dynamic counsellor and have been counselling couples, adults and teenagers for over twenty years. I work with issues creating such distressing issues as anxiety, bereavement, relationships, eating problems, illnesses - in fact most of the problems which need to be looked at to improve life for my clients. I work with couples and with individuals of all ages. I also use CBT (Cognitive Behavioural Therapy) and other therapies which I have studied in order to help clients to change or cope with their problems. I can offer a non-judgemental, safe place for people to bring their problems for help.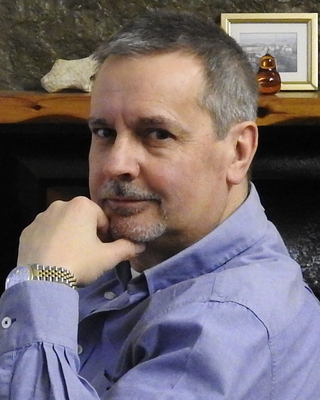 Peter Banczyk
Psychotherapist, MBACP
Verified
While Doctors make up around 40% of my clients, I have helped people from all walks of life in my 24 years of practice, and if you are looking for a compassionate and experienced therapist, I may be right for you. I can help with; attachment, trauma, anxiety, depression, overwork / work stress, personal relationships, and more. A healthy self-relationship is, I believe, a much neglected and misunderstood area and one I help many people with each year. Video sessions can be an easy way to access a skilled practitioner with 20+ years of experience. You can find out more information about me on my website and read my blog.
---
What type of mental health professional is right for me?
While most types of therapy have a lot in common, they also fall into clusters that share core features, such as cognitive therapies or psychodynamic approaches. It is important to seek someone who practices evidence-based therapy, meaning one or more forms of treatment that have been scientifically evaluated and tested, and demonstrate consistent improvement for a majority of patients.
If you are unsure about choosing the right therapist, psychologist, or counsellor, it might be useful to first learn more about
therapy types and modalities
.
---
How to find a therapist or counsellor in KW14?
When looking to
find a therapist
, start by considering training and credentials. Studies also indicate that the therapeutic alliance, or the relationship the client develops with the therapist, is an important factor in their ability to work together to achieve the client's goals.
---
What method of therapy is right for me?
When it comes to treatment methods, there's no 'right way.' Each method of therapy can be beneficial for a variety of issues. Psychologists in KW14 specialise in therapeutic approaches such as CBT, EMDR, and Interpersonal Therapy (IPT), among others. Finding a psychologist or counsellor who is a good fit for you is the most important step to discovering what type of therapy, or combination of therapeutic approaches, will meet your individual needs. Learn what to expect from different
types of therapy
and how they work.
---
Can I afford counselling?
Yes. Most counsellors offer reasonable rates or will work on a sliding scale basis. Many accept health insurance. Feel free to discuss this when you contact the counsellor.