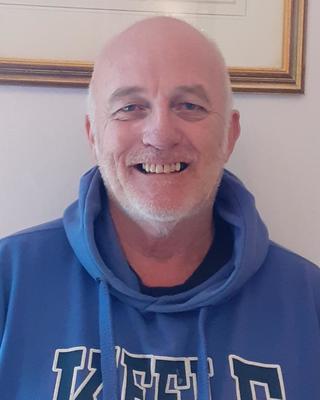 Cheshire Therapy and Veterans Counselling Services
Counsellor, PhD, MBACP
Verified
Counselling is available via the internet (WhatsApp, Messenger) and protocols are in place for face to face. My experience is based on practice, research, and personal experience. I assist individuals to make sense of their thinking processes, by assisting them to prevent past experiences negatively impacting on their 'here and now thinking'. Areas include: anger, relationship issues/breakdowns, trauma, self and sexual identity, work and education stress,
depression
, fear of mortality, combat related PTSD (also impact on families), transitional issues. I offer a safe environment to discuss your issues. Pro bono 15 min WhatsApp chat
---
See more therapy options for Kidsgrove
---
Depression Counsellors
Depressive disorders are characterized by persistent feelings of sadness and worthlessness and a lack of desire to engage in formerly pleasurable activities.
Depression
is not a passing blue mood, which almost everyone experiences from time to time, but a complex mind/body illness that interferes with everyday functioning. It not only darkens one's outlook, it is commonly marked by sleep problems and changes in energy levels and appetite. It alters the structure and function of nerve cells so that it disrupts the way the brain processes information and interprets experience.
Despite feelings of hopelessness and worthlessness, depression is a treatable condition. It can be treated with psychotherapy. As with many illnesses, the earlier treatment begins, the more effective it can be and the greater the likelihood that recurrence can be prevented.
Psychotherapy addresses the thinking patterns that precipitate depression, and studies show that it prevents recurrence. Drug therapy is often helpful in relieving symptoms, such as severe anxiety, so that people can engage in meaningful psychotherapy.