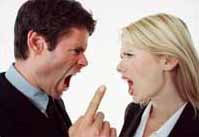 Compromise is certainly key in politics. But it's no less key in relationships. Perhaps the main reason so many couples remain mired in power struggles is that they're unable to grasp the elusive art of give-and-take. And the "my way or the highway" approach to solving marital conflict is about as ludicrous as it is futile.
After all, if one spouse bull-headedly declares "case closed" (as in, "It's my money, and I'll spend it anyway I please!"), then at the earliest opportunity the other spouse will find a way of re-opening the case . . . or precipitating a new one. As I frequently advise couples, most win-lose solutions are ultimately lose-lose, for the partner experiencing defeat will immediately be looking to the next round for a comeback--or worse, immediately take pains to sabotage their partner's victory.
So couples need to realize that (as difficult as it sometimes seems) either they jointly discover a solution that's win-win, or both of them will wind up feeling beaten. Practically speaking, there's really not much in between. If your will triumphs over your partner's, at first you may experience some satisfaction, but in the process you've inadvertently turned your partner into an adversary. So finally it's a Pyrrhic victory-the cost to your relationship far exceeding the initial reward of your success.