In August 2007, just after her 21st birthday, I wrote a piece for the Wall Street Journal called "Bad Advice for Lindsay Lohan" (just Google "Peele-Lohan"). This was after she relapsed immediately upon leaving her first rehab stint at age 20.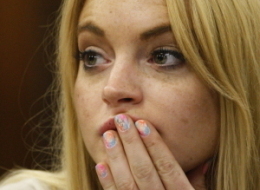 Their plan? Why, force her back into the system she had just failed at!
That is, after all, the American treatment failsafe system!
Here were the four things I said she would learn there that would leave her unarmed for her future:
She should never drink again. You know, sending kids out with the simple advice - "Here's how you remain sober: just don't drink for the next sixty years" - just doesn't work. It didn't take for fifteen minutes the first time she was in treatment. You see, the problem is that people lead lives - and Lohan's I could tell was not going to be in a nunnery.
For Lohan, now 24, the abstinence preaching in lieu of treatment didn't have the intended effect. Of course, she might do what her father, Michael Lohan, did - keep getting drunk until he got into a serious car accident he was lucky to survive near the time Lindsay was first sent to treatment. But that represented another couple of decades of drunkenness for the elder Lohan. So maybe Lindsay could do the same in 20 years - if she survives.